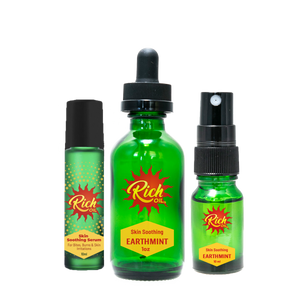 Skin Soothing Power for Life's Little Skinjuries
Whatever you're into, Rich Oil melts into skin for near-instant relief. What does it soothe? Anything that irritates your outsides!
Save yourself from the pain and frustration of bug bites, bee stings, sunburns, and more. Apply Rich Oil right away to ease the pain, reduce the itch, and get on with your glorious life.
The Family pack offers all of our amazing applications for all of your family's needs.
- 10ml rollerball
- 10ml spray-away
- 2oz dropper